Faculty Involvement
Faculty engagement and collaboration across the University of Arkansas is crucial to the work of the Office of Entrepreneurship and Innovation. Contact oei@uark.edu to share your ideas and learn how our programs and services can support you and your students.
Entrepreneurship and Innovation Faculty
Dr. Carol Reeves established and built the Office of Entrepreneurship and Innovation. She holds the Cecil and Gwendolyn Cupp Applied Professorship in Entrepreneurship in the Sam M. Walton College of Business at the University of Arkansas. Reeves has mentored more than 50 undergraduate and graduate business plan teams since 2002. Her graduate New Venture Development teams and alumni have won more than $3 million in cash and prizes, started more than 40 high-growth businesses, and raised over $60 million in investments and grants. She was named one of the 10 most powerful Women Entrepreneurs by Fortune magazine in 2011.
Dr. Reeves has won two national awards for innovation in entrepreneurship pedagogy, was awarded a University of Arkansas Faculty Gold Medal in 2009, and won the prestigious University of Arkansas Alumni Association Faculty Distinguished Achievement Award for Teaching in 2010. She earned a Ph.D. in Strategic Management with a concentration in Entrepreneurship from the University of Georgia in 1988.
---
Dr. Rogelio Garcia Contreras is the new and founding Director for Social Innovation. He holds a doctorate in international politics and development from the Josef Korbel School of International Studies at the University of Denver, and was the founder of the Social Entrepreneurship Program at the University of St. Thomas in Houston, Texas.
Dr. Garcia plans to develop social innovation projects at the university by actively engaging students in concrete efforts to deliver creative entrepreneurial solutions to pressing social problems and by promoting multidisciplinary scholarly research and innovation in the field.
He has extensive experience as a consultant, researcher and analyst in the private and public sectors in Mexico and in the United States. He has written academic and research papers and book chapters on microfinance, social entrepreneurship, poverty alleviation and impact investment. He has contributed in the past to the Fair Observer blog and Literal Magazine and is about to publish a book of essays.
---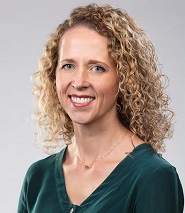 Sarah Goforth, M.A., is the Executive Director of the University of Arkansas Office of Entrepreneurship and Innovation, which she joined in 2017. In that role she co-teaches the graduate-level New Venture Development course sequence and serves as a lead teaching team member for the statewide NSF I-Corps site. She oversees the Brewer Family Entrepreneurship Hub and McMillon Innovation Studio, develops collaborations between OEI and partners on campus and off, and partners with faculty across campus to support graduate students from any discipline who have an interest in entrepreneurship.
Prior to returning to her native Northwest Arkansas, Sarah served as Chief Communications Officer for the Smithsonian's National Museum of Natural History, where she served on the executive leadership team and oversaw the museum's marketing, digital initiatives, and communications. Previously, as a senior producer for Discovery Channel's digital team, she served as a science news editor and producer, overseeing a team of science writers covering subjects ranging from physics to technology to human biology and the environment. At the Howard Hughes Medical Institute, she was part of a small team that established a new science documentary startup, Tangled Bank Studios. Having finished a master's degree in science journalism just as the newspaper industry began to lose its footing, she founded and operated a science communications consultancy from 2001-2009.
---
Jeff Amerine (PMP) is the Founding Principal of Startup Junkie Consulting, a venture ecosystem catalyst company that was recently successful in being awarded long-term funding from Winrock International, the Walton Family Foundation, and the Small Business Administration to foster the grown and improvement of Northwest Arkansas venture ecosystem and to enhance the Ozarks Regional Innovation Cluster (ORIC). The ORIC award was one of four competitively selected regional innovation clusters out of fifty applicants nationwide.
Jeff is one of the key leaders nationally involved with the creation of lasting regional venture/startup ecosystems. He has held senior leadership positions in eight startup venture and three Fortune 500 companies and has made more than 60 angel investments in early-state ventures. He is a retained advisor for Innovate Arkansas, a Winrock International program that is chartered with the creation and support of a knowledge-based economy in Arkansas and has accounted for $235+ million in public and private financing for Arkansas-based startups.
Additionally, Jeff is an adjunct professor and teaches entrepreneurship in Walton College. He previously served as the Associate Vice Provost of Research and Economic Development and Director of Technology Ventures at the U of A until leaving to pursue Startup Junkie full-time in January 2015. His work at the U of A over the past seven years canvased every aspect of the commercialization of scientific and technical innovation, including life science, biotech, medical devices, healthcare information technology, and pharma.
---
Mark Zweig is the founder and CEO of a three-time listed Inc 500/5000 consulting, publishing, and media firm, ZweigWhite. He is also the founder of rapidly growing design/construction/development firm Mark Zweig, Inc. As a management consultant, Mark has worked with A/E and environmental consulting firms of virtually all sizes and types throughout the U.S. and abroad on a wide variety of problems—from strategic planning, to turnarounds, to partner separations, to organizational restructuring, to mergers and acquisitions, to reenergizing marketing, to dealing with cash flow crises, and more.
Mark is a widely published writer on A/E/P and environmental firm management, having authored 12 books. He is also the publisher of The Zweig Letter, CE News Magazine, and Structural Engineer Magazine. He sits on the BOD's of several different privately-held A/E/C firms, ranging from $10 million to $200 million in annual revenues. As an Executive in Residence at The Sam M. Walton College of Business at the University of Arkansas, Mark teaches entrepreneurship—both New Venture Development and Small Enterprise Management-- to undergraduate students. He is also an Adjunct Professor in the Fay Jones School of Architecture at the U of A. Mark is passionate about entrepreneurship and brings a strong practical knowledge of business to his students—many of whom he continues to mentor long after graduation.
Mark received both his MBA (1980) and BS in Organizational Behavior (1979) from Southern Illinois University at Carbondale, Illinois. He was named to the SIU-C College of Business Hall of Fame in 1992, elected to the College of Business Board of Advisors in 1999, and named Chairman of the Advisory Board in 2002.
---